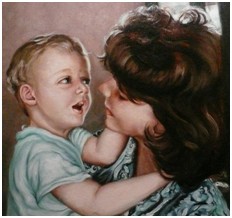 Phyllis Wysinski

Healthy Home, Wellness Educator, & Project Share Representative

I am holding my little brother, Joseph, who began to have seizures at the age of 3 months which affected his mental development. He did not walk or talk, but he brought great joy to every life he touched. Joseph went home to heaven when he was 4 ½ years old from complications of pneumonia. It is my hope that I can be of service to non-profits to help them reach their goals and make a positive difference in the lives of children and adults in need.

---
My name is Phyllis and I would like to share with you why I am part of the Shaklee family. I recently retired after 35 years of teaching in a Catholic school in the Archdiocese of Cincinnati. I loved my teaching career and I am excited about beginning a new career that allows me to continue using my skills as an educator.
I chose Rainbow Health Concepts for my business name because I have always believed God wants us to be healthy and happy and the rainbow has been a sign of God's promise since the time of Noah. I also see the pot of gold at the end of the rainbow as optimal health. I believe our health is a great wealth to work toward each day.
The colors of the rainbow all blend together for a beautiful creation. I believe our journey to better health is a blending of many factors including our personal choices of what we eat, how much we exercise, lessening our exposure to toxins, getting enough rest and relaxation, a positive attitude, friends and family, reaching out to help others, and a spiritual connection to our Creator. A rainbow always makes me smile!
I have been a member/consumer of Shaklee products for over 20 years. During that time I have used many of the product lines and our health has benefited. I began with the Vita-Lea multivitamin and then the non-toxic cleaning products were added. We now use the nutrition, cleaning products, skin care and cosmetic lines and the water purification pitcher, as well as the sports nutrition and protein drinks. My husband and I have both experienced the benefits of the Shaklee products for many years.
I decided to take advantage of the Shaklee business opportunity to help me reach several goals.
I have dreamed of having extra income to share with others. This would include helping to support my brother's ministry as a Franciscan priest with their mission work, help with activities in my parish and school, donate to our St. Vincent de Paul Society, and Right to Life organizations. Our retirement income took a hit as did many others and I also want to add to our reserves for future needs.
Another very important goal is to share the benefits of the Shaklee products with others to help them achieve healthier lives. I know the products have made a positive difference in our health and I would like to share information that will benefit others, too.
For those who are interested, I can also help them develop their own Shaklee business in order to have a healthier life and more financial freedom.
We are also now able to offer a unique fundraising opportunity for non-profit organizations through the Shaklee Corporation. If you know of a non-profit group who can use additional funds, please click our Project Share link an
d learn more about this wonderful way to show your support for a great cause!
I look forward to working with you as you travel your wellness journey. Many blessings and good health to you!